Drywall Sander with Vacuum Power Tool for Woodworking Home Improvement
Product Detail
Product Tags
Remember when you could quickly smooth out the drywall. The Changde Variable Speed Handheld Drywall Sander makes sanding drywall easier than ever. With a lightweight 3.75kg body, you'll make quick work out of even the largest of tasks. If that's not light enough, the included shoulder strap and auxiliary handle combine to alleviate fatigue during long days on the job. Attach the handle to either side of the sander for both left-handed and right-handed users, or ditch it altogether to fit into tight spaces and corners. The lock-on power switch keeps your sander rotating even after you release the trigger. Adjust the speed of our powerful 3.4 Amp motor anywhere from 1400 to 2700 RPM to meet the needs of the project at hand. The 180mm hook and loop base pad makes sandpaper changes a breeze. Control excess dust with the variable air flow dust extraction dial. The 2m flexible dust vacuum hose attaches easily to either the included dust bag or the dust collection system of your choice. This package also includes 6-pieces of hook and loop sandpaper disks (two 120-grit pieces, two 140-grit pieces, two 320-grit pieces). And because its a Changde product, your Variable Speed Drywall Sander comes backed by a 6-month warranty.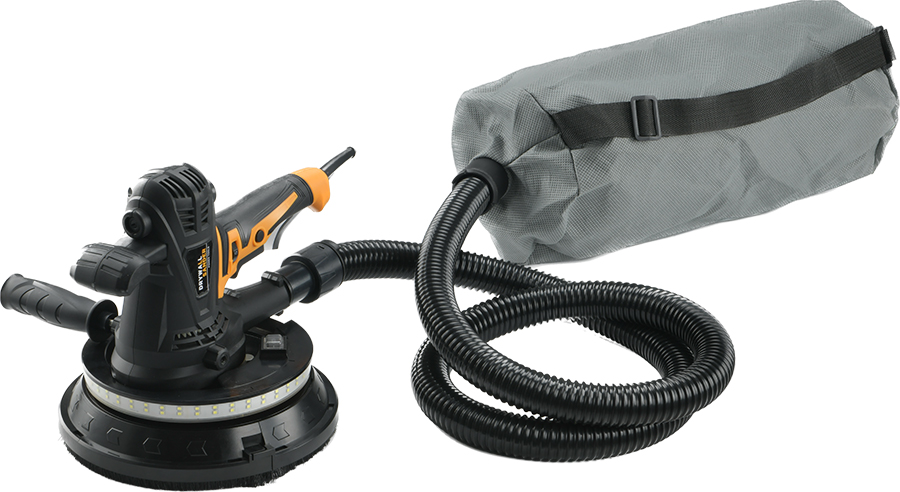 ● The ergonomically shaped handle extends up to nearly 6 feet to let you reach high ceilings, corners, and floors, while the articulating head sands in any position with its 90° range to cover every nook and cranny.
● Easily find any ridges, lines, lift-offs, and high spots in low light environments thanks to the dual LED light rings that are built right into the frame to provide a convenient source of illumination.
● Reversible auxiliary handle perfect for both left-handed and right-handed users.
● Variable speed 3.4 Amp motor operates anywhere from 1400 RPM to 2700 RPM .
● A range of six speeds from 500 to 1800 rpm lets you smooth out rough spots on any rugged ceiling or wall without leaving swirl marks.
● 180mm hook-and-loop base pad makes changing sandpaper easier than ever.
● Automatic dust removal system combined with the 2m dust hose minimize clean-up.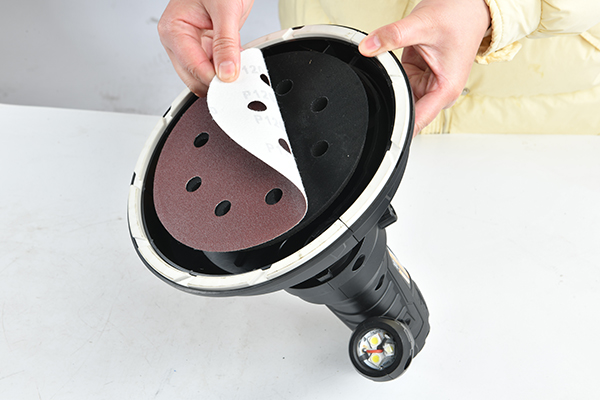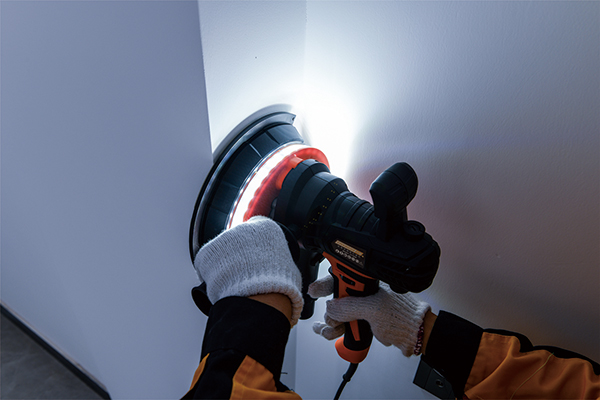 1. Maximum Rotational Speed:2700RPM,Far greater than other grinders on the market
2. 900W adjustable speed drywall sander with vacuum and 360° LED light
3. Lightweight design for easy carry and maneuverability
4. Includes 1 dust bag, 1 instruction manual, 1 pair carbon brush, 1 pc side handle, 1 pc connection adapter, 1 hex key, 3 pcs adjusting shim, one 2M dust collecting pipe and 6 sanding discs
5. OEM&ODM are acceptable
The machine is designed for sanding drywalls, ceilings and wals of the inner and outer surfaces,clearing the floor residues, paint coatings, adhesive and loose plaster etc.It may promote the wall grinding efficiency and quality by workers.
With various conditions taken into consideration in the design, the device may run at high or Iow speed to optimize the grinding efficiency and realize user-friendly and compact design. In addition, this machine is designed with self suction function, can effectively reduce the dust when sanding.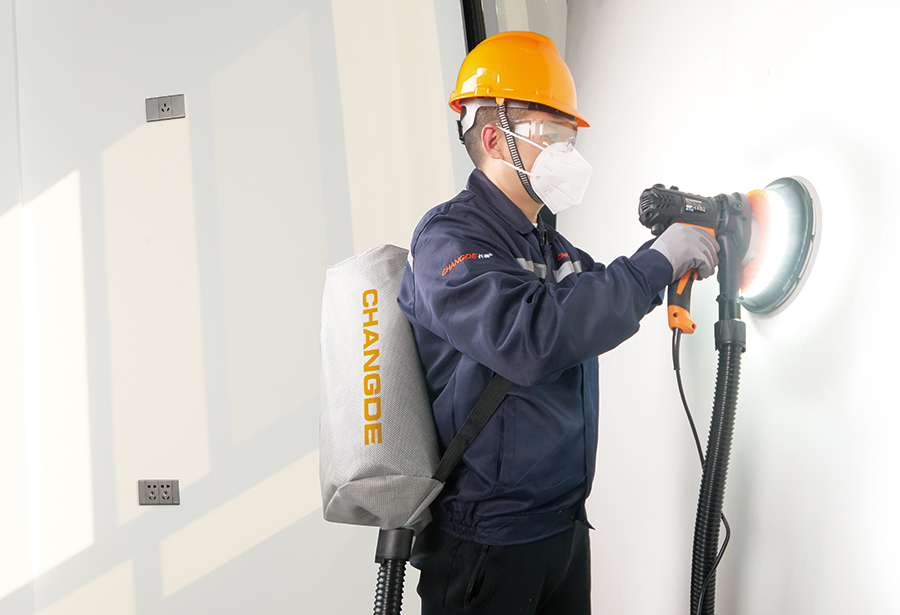 Rated voltage /Frequency 
230~240V/50Hz
110~120V/60Hz
Rated Power
900W
No-load Speed
1400-2700r/min
Sanding Pad Dimensions
 Φ180mm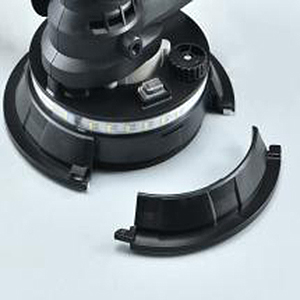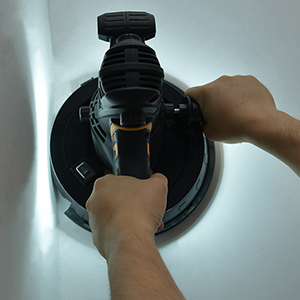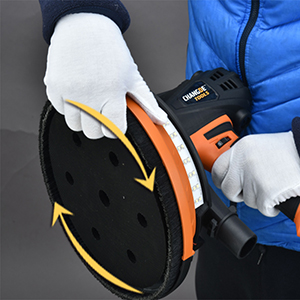 360 Rotatable Grinding Disc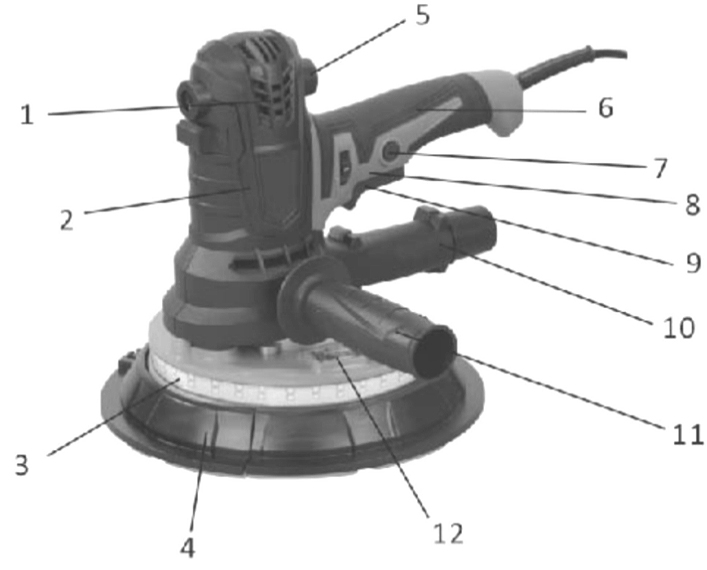 1. Heat sink at the top
2. High-power Motor
3. Double LED Strip Light
4.180mm Rotating Tray
5. External Carbon Brush
6. Soft hand Grip
7. Speed Controller
8. Speed control switch
9. Switch
10. Connector for dust collect bag
11. Side handle
12. LED Strip Light switch
1. What are your prices?
Our prices are subject to change depending on supply and other market factors. We will send you an updated price list after your inquiry for further information.
2. Do you have a minimum order quantity?
Yes, we require all international orders to have an ongoing minimum order quantity. MOQ is 500pcs for OEM&ODM, If you order smaller quantities, the color of machines will be our normal color.
3. Can you supply the relevant documents?
Yes, we can provide most documentation including Certificates of Analysis / Conformance; Insurance; Origin, and other export documents where required.
4. What is the average lead time?
For samples, the lead time is about 7 days. For mass production, the lead time is 20-30 days after receiving the deposit payment. The lead times become effective when we have received your deposit, and we have your final approval for your products. If our lead times do not work with your deadline, please go over your requirements with your order. In all cases we will try to accommodate your needs. In most cases we are able to do so.
5. What kinds of payment methods do you accept?
You can make the payment to our bank account, Western Union or PayPal:
30% deposit in advance, 70% balance against the copy of B/L.
---
Previous:
---